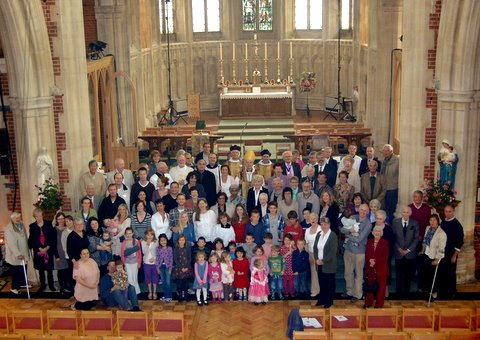 All Saints' is more than a building - it is a place where people meet to pray together, where they can experience times of quiet and reflection, as well as joyous celebration.
We are:
a family of people of all ages, for whom God is important and has a central place in our lives;
ordinary people who try to follow Jesus Christ;
people who care about the values of our society and the life of our local area as well as the world around us;
part of the Church of England, administering the sacraments and teaching the faith as received from the Apostles; and
a very social group of people who enjoy meeting together for quiz evenings, beetle drives, parties, afternoon teas and much more...
We have two thriving Sunday School groups (0 to 8 year olds and 8 year olds plus) which meet every Sunday morning. We also have strong connections with Holy Trinity School, East Finchley.
We have a strong musical tradition and are always glad to welcome new members with singing ability to the All Saints' Choir. The Choir rehearses before the service on Sunday mornings, in order to maintain a wide repertoire and high standard of performance. The Choir also occasionally takes part in concerts, including as part of the annual East Finchley Arts Festival which is centred at All Saints'.
We seek to be people who know and share the love of Christ. As we take our places in the household of faith, we all find new hope, new fellowship and a new joy in living.
We hope that you will join us.